David DeCoteau on
Curtains
Director Richard Ciupka's Canadian slasher updates the old dark house theme as a group of aspiring actresses convene in a spooky mansion while trying to avoid a masked figure armed with a sickle and a bad temper. The 1983 film benefits from the welcome presence of Animal House's John Vernon, John Steed's former partner Linda Thorson and the exquisite Samantha Eggar.
About David DeCoteau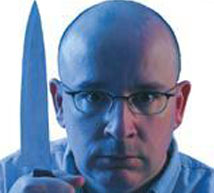 David DeCoteau has worked professionally in the movie business since he was 18 years old. He got his start through a generous offer from movie legend Roger Corman who hired him in 1980 as a production assistant at New World Pictures. In 1986, David directed and produced his first feature film for another generous film legend, Charles Band. David has gone on to produce and direct more than sixty motion pictures over the past twenty five years. He resides in British Columbia, Canada. Learn more about David and his work at Rapidheart.