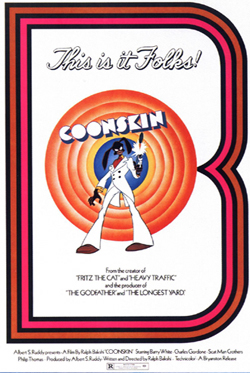 Larry Karaszewski on
Coonskin
Ralph Bakshi's nervy satire on race relations courted controversy from all sides, beginning with its in-your-face title (which Bakshi himself objected to) and its incendiary use of African-American stereotypes to score its satirical points. The 1975 film, a mix of live action and animation, referenced a wide range of black-cultural hot buttons including Song of the South and blaxploitation fare. The production of the movie was fractious enough (Bakshi was locked out of the studio at one point) but the actual release of the film was when the fireworks, including picketing and a few smoke bombs in select theater lobbies, really started. In the decades since, cooler heads have prevailed and Coonskin counts artists as disparate as Spike Lee and Quentin Tarantino among its fans. NSFW!
About Larry Karaszewski
Larry Karaszewski with his writing/directing/producing partner Scott Alexander won the Best Screenplay Golden Globe for The People vs. Larry Flynt and was nominated by the Writers Guild of America for the cult favorite Ed Wood.  Other credits include writing the Milos Forman film Man on the Moon, adapting the Stephen King story 1408, producing Paul Schrader's Auto Focus, and writing/producing the upcoming Tim Burton feature Big Eyes.  Larry is an active Los Angeles cineaste serving on the board of advisors for the Cinefamily and  hosting a long running film series for the American Cinematheque.