Cold War Creatures: Four Films from Sam Katzman (Part 2)
CineSavant's reviews for the new Blu ray set, Cold War Creatures-Four Films from Sam Katzman, are in two parts. You can find Glenn Erickson's review of Zombies of Mora Tau and The Giant Claw in Part One.
Cold War Creatures: Four Films from Sam Katzman
Blu ray
Arrow Films
1955, '56/ 1.85
Starring Richard Denning, S. John Launer, Steven Ritch
Directed by Edward L. Cahn, Fred F. Sears
Sam Katzman began his Hollywood career in 1933 with His Private Secretary, a romantic comedy starring John Wayne made for  Screencraft Pictures—he endured for five decades, hopscotching from Victory Pictures to Monogram to MGM before bowing out in 1972 with The Loners, an Easy Rider rip-off starring Dean Stockwell (who called the movie "a mess"). But it was at Columbia where the familiar Katzman brand was born—exploitation fodder inspired by the fish stories found in tabloids. These were movies about headlines, not human beings, so it's a little startling to see even a glimpse of recognizably human behavior appear alongside the monsters and mobsters populating his movies. But appear it did, on at least two occasions.
Creature with the Atom Brain is the story of Dave Harris, a police officer married to his work—and if we read his hangdog expression correctly, it's a joyless existence. Screenwriter Curt Siodmak didn't give Harris much of a back story but he didn't need to—one look at the captain's slumped shoulders and bean-bag chassis and you know he spends his weekends canoodling with a TV dinner and the Friday night fights. Though square-jawed Richard Denning tops the credits of this Columbia chiller about mind-controlled zombies, it's S. John Launer as the sadsackian Dave who wins the day and redeems the wallflowers of the world—he's the Marty Piletti of science fiction movies (it must have been the year of the lonely hearts, the Borgnine film was released just two months earlier.)
Denning plays Chet Walker, a hard-charging police doctor in pork pie hat and ever present pipe, the very image of the brainy action hero circa 1955 and, not coincidentally, the polar opposite of the soft spoken Dave—or "Uncle Dave" as he's called by Walker's central casting offspring, a gratingly phony little mood-killer named "Penny." The two cops are investigating a wave of gangland murders carried out by atom-powered corpses, the work of a vengeful mob boss named Frank Buchanan and a Nazi scientist named Wilhelm Steigg. The bodies are piling up and the already industrious Harris is working overtime, appearing at Walker's door at all hours when he's not burning up the phone lines. The overeager detective is oblivious to a side effects of his hard work—he's constantly thwarting the bedroom escapades of Walker and his wife Joyce (played by Angela Stevens, channeling June Cleaver). It may be the only time coitus interruptus is used as a plot point in a monster movie (maybe Dave is just trying to prevent another "Penny" from happening).
Though  Edward L. Cahn directed in the anonymous style of a Monogram policier and Siodmak's dialog is low on wit, the film's central premise, an entertaining mix of mobsters, science fiction, and horror, energizes this typically brief Katzman production (it runs just 69 minutes.) The zombies themselves are played by a few memorable mugs let loose from the Katzman stable including Charles Horvath (the hulking handyman of The Thing that Couldn't Die) and beetle-browed ex-wrestler, Karl "Killer" Davis, who performed undead duty on Katzman and Cahn's Zombies of Mora Tau. Cinematographer Fred Jackman, who shot everything from Earth Vs. The Flying Saucers to The Partridge Family, doesn't rest on his journeyman credentials, a lot of his work on Atom Brain is excellent—and a suitable warm up for his work on Cahn's second  zombie sci-fi film, Invisible Invaders.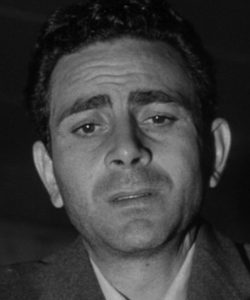 While Launer battled monsters in Atom Brain, in The Werewolf, he creates them. And like Atom Brain, it's science, not the supernatural, that's responsible for those monsters. Launer plays Morgan Chambers, a doctor in cahoots with Emery Forrest, a surly scientist developing a cure for radiation poisoning which has an unfortunate side effect involving fangs and claws.
The two medicos have set up shop in an isolated cabin in the hills of Big Bear, California and their scientific methods are, shall we say, compromised—their test subject is not only unwilling, he's the victim of an auto accident. The disoriented gent at their doorstep is named Duncan March and though he survived the crash he's lost his memory—pretty soon his humanity will follow. March is played by the screenwriter/actor Steven Ritch and his performance gives Fred Sears' lycanthropic noir unexpected power—with his shell-shocked face Ritch could be an extra in Rossellini's Open City—the humiliations heaped upon this poor soul make The Werewolf one of the most distressing experiences in genre films. It might be a blessing to have a marble-mouthed stiff like Don Megowan as the police chief hero, his stony personality brings us back to Katzman Land and provides some relief from Ritch's ordeal.
Sears does a better than average job with the screenplay by Robert Kent (what a career—Gildersleeve on Broadway, Where the Sidewalk Ends, and The Christine Jorgensen Story) and takes advantage of the beautiful but foreboding California vistas, the perfect backdrop to March's cold and lonely circumstances. Sears' sympathetic treatment of March's family life is another plus, with a good, low-key performance by Eleanore Tanin as Mrs. March.
The director is good at scaring the audience, too—the werewolf attacks are both restrained and unnerving, one moment of bloodshed in a wet alleyway is kept offscreen with only growls and screams to suggest the mayhem, and a  shadowy jail cell attack is the stuff of nightmares. The man-to-beast transformations are distressingly slipshod but Clay Campbell's makeup concept is top notch (though Ritch has the habit of crinkling his werewolf nose like Zelda Gilroy in The Many Loves of Dobie Gillis). Eddie Linden's moody cinematography makes this low budget picture shine—not a surprise for the man who shot King Kong.
Arrow's transfer of Creature with the Atom Brain looks fine, sharp with deep blacks—the lab scenes would not be out of place in a Dr. Mabuse film, though the pedestrian interiors remind us of the budgetary constraints. The print for The Werewolf shows some occasional print anomalies and fading—it passes muster but is far from a stellar presentation. The proper framing for each film helps in a big way. Arrow's set is a pricey affair (the Retailer from Hell lists it at 90 bucks) so a certain hesitancy is warranted even by the most devout Katzman fan (one hopes a reasonable chunk of that profit goes to Matt Griffin, the illustrator responsible for the excellent box art). That box is a beauty, though—packed with collector goodies like postcards, an 80 page book full of art and production stills, and a 60 page book with new essays on Katzman and his films. There's a good selection of extra material on the discs—here's the rundown from Arrow's site:
Disc 1 – Creature with the Atom Brain
Brand-new introduction by historian and critic Kim Newman
Brand-new audio commentary by critic Russell Dyball
Sam Katzman: Before and Beyond the Cold War Creatures, a brand-new feature-length illustrated presentation on the life, career and films of Sam Katzman by historian and critic Stephen R. Bissette
Condensed Super 8mm version of Creature with the Atom Brain, produced for home cinema viewing
Theatrical Trailer
Image Gallery
Disc 2 – The Werewolf
Brand-new introduction by critic Kim Newman
Brand-new audio commentary by critic Lee Gambin
Beyond Window Dressing, a brand-new visual essay exploring the oft-overlooked role of women in the films of Sam Katzman by historian and critic Alexandra Heller-Nicholas
Condensed Super 8mm version of The Werewolf, produced for home cinema viewing
Theatrical Trailer
Image Gallery