CineSavant picks The Most Impressive Restorations of 2017
CineSavant
2017 Favored Disc Roundup

Savant picks The Most Impressive Restorations of 2017
This is a tough year for best-of Home Video lists, if one's interest is classic films, or more simply, great old movies. I long ago strayed from actually saying one movie is better than another, as I like too many of the so-called losers. Even the Oscar competition has lost its cachet — so many of the Best Picture winners seem so unimportant, I can barely remember them.
What makes this year particularly tough is that so much great vintage cinema was released on home video. Several boutique outlets licensed studio titles by the bushel, and lavished attention on many deserving titles. Even Warners allowed Criterion to dip into its vault for special items, resulting in some terrific discs.
It's also been a record year for notable restorations — not necessarily of legendary big titles, although we got a couple of those. No, it's the year of the Glorious Obscurities — shows that were so difficult to see that we thought they might never become available in a decent condition. Since the year 2000 a couple-hundred problem pictures have emerged, that were hovering just out of our reach due to lost elements, legal barriers, or simple neglect. The number of delightful surprises has multiplied since the miraculous rediscovery of an original cut of Metropolis, and now we're no longer surprised when a vault search stumbles onto a mislabeled perfect dupe master of a lost title, or a one-of-a-kind print turns up in a bank vault somewhere, or in a barn in Alaska. At this rate, it doesn't seem impossible that Holy Grail titles might show up. How do we know that Orson Welles' print of The Magnificent Ambersons isn't tucked away somewhere in Brazil? It sounds impossible, but then so is the story of Paula Felix-Didier in Buenos Aires.
Not to be cynical, but although 2017 may be the worst time ever for politics, the condition of the country and the planet in general, doomsayers can find relief in the knowledge that rapt film fanatics and collectors of old movies are having a banner year. We're the kind of people that, when a favorite film is mentioned, can remember both when we last saw it and what condition it was in. Can't sleep? I'll be happy to tell you of my happy experiences discovering Vertigo, Peeping Tom, and Mystery of the Wax Museum for the first time.
I say all this to lead up to my organization for this year's 'Favored Disc Round-Up,' which hasn't been a conventional best-of list for years. When I want to peruse titles of obscure new movies I should see, I'll go snoop to find out what Marc Edward Heuck has to say. I'll consult my fellow wizards at the Online Film Critics Society as to what they feel the 'best' movies are. There is so much great stuff to enjoy and experience that ranking everything by some abstract notion of 'what's best' just seems pointless. Of course I think highly of my personal opinion, who doesn't? When talking about an individual title I might say that X is better than Y but not as good as Z, but Y almost always has something that X and Z lack. If it's a contest where we throw out all the movies deemed imperfect, it'll be like the old times in Hollywood. A great many of the films now critically regarded as irreplaceable, were not the most popular in their day.
So this December I'm concentrating on the year's welcome surfeit of restorations, rediscoveries and wonderful surprises, ranked in order of impact. Something wonderful is announced practically every month. This is the real excitement of being a Blu-ray collector, and an inducement to take one's vitamins and try to stay alive a few more seasons. Don't check out too soon, you don't know what you might miss.
A restoration, it seems, can be many things, and every restored title has a different story. A team of experts can pore through all available film elements, doing needed repairs, re-grading and re-mixing to retrieve a title that's falling apart. Or, some miraculous discovery will suddenly bring back a completely lost film, or enable the labs and digital experts to give us a thing of beauty in place of a murky eyesore. There's also a third kind of restoration that's much less glamorous, the kind performed by a career 'asset manager' who cares about film and Doing The Right Thing. When asked to optimize a feature in the vault, he does research into its format, aspect ratio, and audio configuration. He'll try to find an original print with good color, to take to the color timing session. He'll check the running times of odd entries in the vault records to find out if a longer or more original version exists, or if dialogue has been changed or censored. These people routinely do great things for 'ordinary' movies, and deserve our praise.
One release that meant a lot to me this year that I wasn't able to review is Indicator / Powerhouse's newest Blu-ray of the Harryhausen great The 7th Voyage of Sinbad. That picture has been giving Sony grief for decades, and restoration chief Grover Crisp seems to have made it his business to go the extra mile to improve the video master. The new Sinbad is sharper and has much better color. It gets all the details right, like finding the proper 'baby chick' yellow for the giant Roc's hatchling. I just thought I'd throw that in — I didn't get on the Indicator bandwagon in time to review that terrific new restoration.
---
So without further delay, here is the
CineSavant 2017 Favored Disc Roundup:
The Year's Most Impressive Restorations
1.
The Warner Archive Collection
The Sea Wolf
Blu-ray
DVD
Top honors go to a marvelous filmic find. The Warners executives have long been investigating certain pictures that were cut for reissue and the original longer versions discarded. Highly desired titles that have so far evaded restoration are Howard Hawks' The Thing and The Big Sky, for which pale 16mm has been located for missing sections, and Rachel and the Stranger, which was pruned by a twelve minutes – and no full version has been found in any film gauge. Michael Curtiz's classic The Sea Wolf also lost about thirteen minutes, and was in the same state: Warners had access to John Garfield's 16mm print, and that was it. Then, out of the blue, a pristine full film element showed up, and suddenly the Jack London classic with Edward G. Robinson and Ida Lupino is back as if it had never been AWOL. Like the recently cleared-for-exhibition The Constant Nymph, this show deserves a full reevaluation and rediscovery.
---
---
2.
The Cohen Group
The Old Dark House
Blu-ray
James Whale's horror comedy fell between the cracks sixty years ago, when Universal's 25-year literary license expired. Being a fairly racy pre-code picture, it wasn't reissued and was never syndicated for TV, and therefore became a rare item despite its galaxy of stars — Boris Karloff, Charles Laughton, Melvyn Douglas. It would likely have crumbled to dust had not director Curtis Harrington pressed Universal to protect it, and archive it with the Eastman House. A prime example of a film we'd thought would always be available only in severely degraded copies, it now looks as though it was filmed yesterday. This may be the feature that best expresses Whale's quirky personality. The director's genius shines through in myriad visual touches that add to the sense of unease — all those weird mirror shots, for starters.
---
---
3.
Kino Classics
Beggars of Life
Blu-ray
The popularity of silent pictures has picked up in the DVD era, but the big winners are still the great comedians. This William A. Wellman drama, much of which was filmed on location on a mountainous rail line, has been written up in most every book about silent cinema, and found additional notoriety via star Louise Brooks' autobiographical account of her sex life in Hollywood. Most silent dramas disappeared with the coming of sound, but the Eastman House preserved this one, perhaps because Ms. Brooks took up residency there as a retiree. Kudos to Kino for giving it a class airing on Blu-ray.
---
---
4.
The Criterion Collection
Marcel Pagnol: Marseille Trilogy
Blu-ray
France, Italy and Germany have invested deeply in film preservation in the last twenty years, with the result that surprise restorations like this one are now common. A major classic of the early sound era from one of France's most prestigious playwrights, this French trilogy now plays like a highly compressed miniseries, as a multi-generational melodrama that documents a lost time, a lost culture. The three separate movies — Marius, Fanny and César — were for the longest time in disarray, pale copies with near-unintelligible audio. The extras on this presentation show a thorough effort to find the best materials for the eight-plus hours of classic filmmaking.
---
---
5.
Arrow Video
Caltiki, the Immortal Monster
Blu-ray + DVD
European horror pictures were among the first beneficiaries of the DVD revolution, which sent film rights holders back to the vault to do improved transfers of shock films. But they skipped this Riccardo Freda-signed Sci-fi monster thriller in B&W, and even RaroVideo had trouble finding decent elements for a Region 2-only DVD. Mario Bava's superior creepy-crawly visuals blossom with a high quality transfer, and this restoration comes through with contrast and detail so exacting that we marvel at some of il maestro's clever visual effects. The producers seem to have thought they were making an ordinary exploitation movie, but Caltiki shapes up as a goopy, sticky, flesh-eating monster rally of classic proportions. Plus a terrific commentary by Tim Lucas.
---
---
6.
The Criterion Collection
Othello
Blu-ray
We have our fingers crossed: the powers that be are now talking as if Orson Welles' long-delayed The Other Side of the Wind might really see the light of day. We've seen various filmmakers 'finish' other Welles abandoned projects with varying degrees of success. Footage from It's All True was turned into a fascinating documentary that included a partial reconstruction of one of the film's segments. By contrast, Jess Franco's 1992 attempt to cut something from pieces of Don Quixote only came up with a ragged mess. Criterion helped reassemble several versions of Mr. Arkadin, a wonderful accomplishment, as was last year's disc of Welles' great Chimes at Midnight. Now they've reconstituted two versions of one of his best pictures, one that was finished and released, but became scarce all the same. Othello was funded with money Welles scraped together from acting jobs and filmed in bits and pieces, with locations improvised in several countries and doubles used for over-the-shoulder shots. I don't know if the main obstruction was physical or legal, but with this polished presentation almost all of Welles' films are now available on decent-quality Blu-rays.
---
---
7.
The Criterion Collection
The Front Page / His Girl Friday
Blu-ray
I once showed up at the New Beverly Theater on a weeknight for an announced screening of Howard Hughes' Scarface and Hell's Angels, only to be told by showman Sherman Torgan that he'd just been served with a cease and desist letter from the Caddo Company. Yet another Hughes' productions kept in the deep freeze for half a century is this madcap Ben Hecht / Charles MacArthur comedy directed by Lewis Milestone. Not only does the print source from the Hughes vault look like it was filmed yesterday, it differs from the terrible-looking version critics knew, which was actually an international version with dumbed-down alternate dialogue. Now we can hear real pre-Code cursing just the way we like it. This original has better newsroom patter and tighter editing. Criterion pairs it with a beautiful remaster of the Howard Hawks remake, with Cary Grant and Rosalind Russell.
---
---
8.
KL Studio Classics
Deluge
Blu-ray
This science fiction-disaster fantasy may be the first post-apocalyptic movie in the modern sense, with gangs of survivors fighting for survival (and sex) in a ruined world. RKO apparently thought so little of the film that they sold it to Republic so that its spectacular special effects sequence, the destruction of New York City by earthquake and flood, could be used in action serials. Simply discarded, the original movie was deemed lost until 1981, when a battered print surfaced in Rome and was identified by none other than Forrest J. Ackerman of Famous Monsters of Filmland magazine. It had been released on VHS tape, looking ragged and dubbed in Italian with English subtitles. But just last year, an original nitrate dupe in fine shape turned up. Again, another movie is taken off the 'lost' column. The fact that it's 35mm film helps, because after 120 years we still work with that format. By contrast, we can no longer play many 2-inch video tapes from the 1960s. If a cache of movies stored on today's digital media were to be rediscovered a hundred years from now, do you think the technology to play them back will still exist? This is why, as a part of serious (and seriously funded) restorations, rights holders make low contrast 35mm backup film copies of their final digital outputs — newly formulated archival film stocks might last a lot longer than a hundred years. An extra plus on this disc is a commentary by Richard Harland Smith.
---
---
9.
Arrow Video
Erik the Conqueror
Blu-ray + DVD
Mario Bava's back, this time with a dazzling restored example of his signature color style. Though not nearly as cheap a production as is claimed, this Viking saga's appeal is at least 50% Bava's personal contribution: eye-popping color images that conjure a lost world of fantasy. It can be claimed that Bava's impressive lighting on the first two Hercules movies launched the Italo costume fantasy as an international moneymaker. Neither of those Hercules pictures is available in a good presentation, and few of the hundreds of Italian sword 'n' sandal epics of the '50s and '60s have been re-mastered for HD video. The whole sub-genre may have to wait until it comes into vogue again, like the popular Italo westerns. Extra benefit on Conqueror: a highly educational Tim Lucas commentary.
---
---
10.
NFA (Czechoslovakia)
Ikarie XB 1
All-region Blu-ray
Let's hear it for the rich film culture of Czechoslovakia, which goes far beyond the couple of dozen art films that have reached American shores. The Barrandov studios made scores of quirky science fiction fantasies, including a number of hilariously droll comedies. In advance of a proposed line of releases to be handled through Criterion, the NFA released this glorious remaster of one of the best sci-fi films from anywhere, about a 'voyage to the end of the universe' in search of intelligent life. Don't expect this one to have a purchase page on Amazon; it's the kind of foreign disc that takes special effort to obtain. I got mine through the Foreign Exchange company, and I see that the few copies presently available at Amazon.uk are going for fifty dollars a pop. Perhaps it will surface from a domestic seller, but it's sufficiently exotic that that might not happen.
---
---
11.
The Criterion Collection
Stalker
Blu-ray
Andrei Tarkovsky's adaptation of the Strugatskys' science fiction epic is neither rare nor a rediscovery, but for me it represents a category of films that I've avoided seeing, for lack of an acceptable presentation. I once walked out of a revival theater screening early on because the print was in bad shape; I couldn't tell if the show had an unusual color design, or if I were watching a faded print. The copy shown on TCM ten or so years ago also seemed unreliable — I kept wondering if the aspect ratio was correct. Experts that know the film well applaud the accuracy of Criterion's release, which shifts between B&W, tinted monochrome, and rich, dark color. When a picture works with such specific visual effects, small details can make a big difference — communicating feelings when the storyline isn't offering easy explanations for everything that happens.
---
---
12.
The Criterion Collection
Something Wild
Blu-ray
Jack Garfein's 1961 art film stands alone, a maverick picture not categorized in any specific genre. It so confused its distributor United Artists that they tried to find a mass audience for it as a sexy mystery thriller.  They then sold it to network television, where it confused many a viewer including this writer at age 12. Criterion's achievement is to simply recognize that a film neglected by its keepers was in serious need of a remastering job; we'd been looking at the same grayed-out, lackluster transfer for almost thirty years. Eugen Schüfftan's superb images and Aaron Copland's dynamic music score now jump out at us right from the opening, a world-class Saul Bass 'New York Profile' montage. What were the critics of 1961 thinking when they turned up their noses at this gem? The big studios are sitting on many exciting movies that, if we're lucky, might show up on TCM, but not in worthy presentations. We applaud the way Criterion has thrown a spotlight on this deserving show.
---
---
13.
Arrow Academy
Story of Sin
Blu-ray
Arrow has completed the remastering and release of most of the films of Walerian Boroczyk, a Polish director that made amazing animations, extreme erotic fantasies and this adult-oriented period picture, a thriller that stunned us back at FILMEX in the 1970s. An innocent girl is victimized, betrayed and transformed into a thief and murderer; the picture breaks every censor's taboo yet remains an honest and compelling drama about the way the cruel prey upon the meek in this world. It's a miracle that we can see this epic of sexual and political repression at all, let alone in this sterling presentation – Arrow's encoding improves upon the export prints we saw back in the day.
---
---
14.
ClassicFlix
T-Men
Blu-ray
We've long assumed that a handful of classic Eagle-Lion films noir were in the public domain; some of the first boot discs I was ever offered were dim copies of Anthony Mann and John Alton's Raw Deal and T-Men. I saw an original 35mm of Raw Deal at the American Cinematheque, but never a copy of T-Men that justified the accolades for its extreme noir lighting. Clearly derived from original elements, this remaster wipes away all the bad memories, with visuals that can stand beside anything from the big-studio pictures of the period. Los Angeles and San Pedro never looked so bleak; Alton's high-contrast images entrap crooks and treasury agents alike in menacing webs of light. With a commentary by Alan K. Rode.
---
---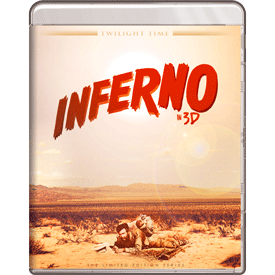 15.
Twilight Time
Inferno
3-D Blu-ray
Apparently the availability of 3-D monitors has dropped off precipitously, but releases keep arriving in the marvelous Blu-ray 3-D format. The 3-D Film Archive has come forward with a steady stream of 3-D rarities, all difficult restorations and labors of love. This 'depthie' from the first year of the 'fifties 3-D craze has excellent depth effects, carefully designed to fit the story of an injured man in the California desert, left to die by his unfaithful wife and her lover. Robert Ryan is terrific and Rhonda Fleming an excellent subject for the 3-D camera. Trapped near the ground with Ryan as he crawls and stumbles, the 3-D helps us share his experience. I almost bought an English release before Twilight Time announced its beautifully mastered disc, that recreates the 'organic' feel of original, carefully calibrated 3-D. Once again, Alan K. Rode offers a noir-inflected commentary.
---
---
16.
Flicker Alley
The Lost World
Blu-ray
This one has bounced around in inferior copies ever since I bought a ten-minute 8mm reel from Blackhawk films as a kid. Blackhawk, Lobster Films & Flicker Alley could have been called this edition The Ultimate Challenger,' for its newly found footage makes it ten minutes longer than anything seen before — and I'm assured that none of the extra time is due to a slower frame rate. The image quality has improved greatly, with most scenes coming across as pristine. The quality is so good that we get a better understanding of how some of the effects were done. The simple split screen mattes are often imperceptible, and original tinting for one scene gives us a hand-painted fire effect. The late David Shepard pushed forward an important restoration in 2000, and this repeat performance takes advantage of new technology and integrates the newly rediscovered scenes found by collector & restoration expert David Abramitis.
---
---
17.
Film Movement
All the Sins of Sodom / Vibrations
Blu-ray
Yes, these are 1960s skin flicks originally produced for those shadow theaters that showed nudie-cuties and 'roughies' before being driven extinct by hardcore porn. In the midst of all the dreck, the adult film pioneer Joe Sarno went his own artistic way, making scores of coherent, often insightful adult-themed psychodramas about people and sex. They're less extreme sex-wise than what's now viewable on HBO, and are professionally directed and acted, and filmed with the instincts of a fine-art still photographer. The availability of Sarno films was once limited to ratty DVDs of splice-y prints — but distributor Film Movement is liberating the director's work from the pages of Incredibly Strange Films, acknowledging their legitimacy with impressive widescreen HD transfers. Commentary duties are taken up by Sarno's widow Peggy Stephans-Sarno and writer Tim Lucas. Between them we learn the whole story.
---
---
18.
Kino Lorber
The Saga of Anatahan
Blu-ray
This is yet another legendary picture that wasn't lost or really even hidden; Josef von Sternberg's last movie, filmed in a Japanese studio in 1952, was simply pigeonholed as too esoteric to attract an audience. I say legendary because Sternberg was heavily taught in film school of the 1970s as the pinnacle of Hollywood directing art; we saw most of his Paramount / Marlene Dietrich pictures in fantastic original nitrate prints in UCLA's then-new film archive. We'd read about Anatahan but couldn't see it. It's the saga of a group of Japanese soldiers abandoned on a remote island, that survive for years without realizing that the war is over. The main conflict is a competition for a farmer's wife (Akemi Negishi). The visuals are more hot & bothered than the actual lovemaking, but Sternberg does convey the steamy psychology of the situation. He considered himself a maker of erotic movies but even given the freedom of this foreign production, he's still locked into a voyeuristic mindset — nude images for a 1958 re-edit are not all that well integrated into the existing narrative.
---
---
19.
VCI
One Million B.C.
Blu-ray
Video Communications Incorporated is a modest outfit with a long history that's finding its way into quality Blu-ray restoration. This year the focus was on some chosen films from the Hal Roach library. One of Roach's biggest hits was an elaborate caveman saga that made stars of Victor Mature and Carole Landis. The Rock Tribe and the Shell Tribe battle prehistoric monsters while Tumac learns table manners and Loana enjoys a Capulet-Montague romance. One Million B.C. once existed as some dull tapes and discs from old recycled TV prints, but the new encoding makes the 1940-era special effects pop and shows just how good is Hal Roach's direction. Script and performance-wise it's more entertaining than the 1966 remake, even with Ray Harryhausen's superior stop-motion illusions. The ultra-sharp image here reveals a feature filled wall-to wall with ambitious mattes and clever mixing of live action, miniatures and those unfortunate lizards with rubber fins and horns glued to their hides. VCI's first pressing has been replaced with an encoding that eliminates an artifacting error that's only visible on very large monitors and some computer screens.
---
---
20.
Film Movement Classics
The Sissi Collection
Blu-ray
Perhaps the time for the 'Sissi' films has come — with the world in such a chaotic state there's definite reassurance to be found in this German equivalent of a Disney film. The three pictures (Sissi; Sissi The Young Empress; Sissi The Fateful Years of an Empress) turn several decades of 19th century imperial turmoil into something resembling a fairy tale. Enormously popular in Europe, the Sissi movies made Romy Schneider into a European superstar. Never really shown in America and previously seen on second-rate video, they've now been beautifully remastered, bringing out all the nuances of Agfacolor's soft, attractive hues. This collection made the list because the films are so unusual – very entertaining and reassuring– somewhere between a history lesson, Pollyanna and a 'fifties TV drama. The line for the Romy Schneider admiration cult forms on the left.
---
---
The following list of quick links to original reviews are some 2017 disc releases that I'd recommend to anybody — discs that I try to keep in the front of the shelves, so I won't lose them. If you see a favorite here maybe it will be a good reminder for something you missed. Some of these would easily make it to a typical 'Savant Favorites' list; others are just great pictures released in excellent presentations. Note: All are Blu-rays, except where noted.

The Accidental Tourist  The Warner Archive Collection
The Angry Red Planet  KL Studio Classics
Avanti!  KL Studio Classics
Beneath the 12-Mile Reef  Twilight Time
The Big Sick   + DVD  Lionsgate
The Boy Friend  The Warner Archive Collection
The Breaking Point  The Criterion Collection
The Bridge at Remagen  Twilight Time
Certain Women  The Criterion Collection
The Champion: A Story of America's First Film Town  DVD  The Milestone Cinematheque
Crime of Passion  ClassicFlix
Death Line  Blue Underground
The Delinquents   Olive Films
Le désordre et la nuit  All-Region  Pathé (France)
Electric Boogaloo  Umbrella Entertainment (Australia)
The Emperor in August  Twilight Time
Fahrenheit 451  Universal


Festival: Rock Music at Newport, 1963-1966  The Criterion Collection
Fritz Lang: The Silent Films  Kino Classics
The Gate  Lionsgate/Vestron
Ghost World  The Criterion Collection
Hell and High Water  Twilight Time
He Walked by Night  Classic Flix
Hour of the Gun  Twilight Time
How to Succeed in Business Without Really Trying  Twilight Time
I Am Not Your Negro  Magnolia Home Entertainment
In this Corner of the World   + DVD  Shout! Factory
Joe Versus the Volcano   The Warner Archive Collection
Julieta  Sony Pictures Classics
The Lair of the White Worm  Lionsgate/Vestron


The Lodger (1927)   The Criterion Collection
Lost Horizon (1937)  Sony
The Love of a Woman  Arrow Academy
The Mad Magician  3-D  Twilight Time
The Man from Planet X  Scream Factory
Mildred Pierce  The Criterion Collection
Night Moves  The Warner Archive Collection
Night People  KL Studio Classics
No Highway in the Sky  KL Studio Classics
One, Two, Three  KL Studio Classics
Our Man in Havana  Twilight Time
Play Dirty  Twilight Time
OSS 117 Five Film Collection: Is Unleashed, Panic in Bangkok, Mission For a Killer, Mission to Tokyo, Double Agent   KL Studio Classics
The People vs. Fritz Bauer  Cohen Media Group
Phaedra  Olive Films
Porky Pig 101 by "B"  DVD The Warner Archive Collection


Revenge of the Blood Beast  Rarovideo
Ride The High Country  The Warner Archive Collection
Le samouraï  The Criterion Collection
The Savage Innocents  Olive Films
The Scar (Hollow Triumph)  KL Studio Classics
Spotlight on a Murderer  + DVD  Arrow Academy
They Live by Night  The Criterion Collection
They Shoot Horses, Don't They?  KL Studio Classics
Things to Come (2016) MPI Media Group
Titanic (1943)  Kino Classics
Tower  Kino Lorber
Ulzana's Raid  All-Region + PAL DVD  Explosive Media (Germany)
The Umbrellas of Cherbourg  The Criterion Collection
The Valley of Gwangi  The Warner Archive Collection
Vampyr (1932)  The Criterion Collection
Women on the Verge of a Nervous Breakdown  The Criterion Collection
The Yakuza  The Warner Archive Collection
You Only Live Once  ClassicFlix
---
---
So 2017 comes to a close. I certainly can't complain — on the personal front it was a very good year. We had another wedding in the family, which worked out wonderfully. I've decided not to retire from editing immediately, although I've accepted my Gold Card from The Guild and have scaled back on video editing. The CineSavant page was fully launched on September 16 with the help of Charlie Largent and Kris Milsap. I wouldn't call myself fully independent but it's much nicer to be in control of my own page. Improvements are slow but the only real complaint from readers is the lack of an email Newsletter. Well, that's something to think about.
Thanks again,
Glenn Erickson, December 14, 2017
Photos at top:
Wedding decorations, July 29, 2017.
'Batman' sign projected on L.A. City Hall in honor of Adam West, June 17 2017.
Mel Blanc's tombstone at Forever Hollywood Cemetery, taken at 'Day of the Dead' celebration October 29 2017.
Odd still frame from Olive Films' disc  S.O.S. Tidal Wave.
Photos at bottom:
Wedding setup, July 29, 2017.
Glenn visits 'the' car in Palo Alto, California, July 9, 2017.
Frame grab with Savant quote (translated into Czech) from new trailer for Ikarie XB 1.
Glenn and friend Allan Peach, October.
---
Nostalgic?
Check out previous DVD Savant Favored Disc Roundups:

Savant's 2016 favored disc roundup
Savant's 2015 favored disc roundup
Savant's 2014 favored disc roundup
Savant's 2013 favored disc roundup
Savant's 2012 favored disc roundup
Savant's 2011 favored disc roundup
Savant's 2010 favored disc roundup
Savant's 2009 favored disc roundup
Savant's 2008 favored disc roundup
Savant's 2007 favored disc roundup
Savant's 2006 favored disc roundup
Savant's 2005 favored disc roundup
Savant's 2004 favored disc roundup
Savant's 2003 favored disc roundup
Savant's 2002 favored disc roundup
Savant's 2001 favored disc roundup
This has been a yearly tradition since 2001. Happy Holidays!
Mother of Mercy? Is this the end of net neutrality?
(5609best)

Visit CineSavant's Main Column Page
Glenn Erickson answers most reader mail: cinesavant@gmail.com
Text © Copyright 2017 Glenn Erickson