Adam Rifkin on
Broadway Danny Rose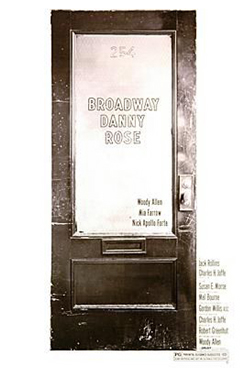 Released 1984
Distributor Orion
About
Broadway Danny Rose
One of Woody Allen's most endearing projects, full of affection for broken-down vaudevillians and dead-end-career comics, not to mention nostalgia for a lost world of New York show biz. Perhaps Mia Farrow's most charming performance. The framing device with the table full of real life comedians at the Carnegie Deli is inspired.
About Adam Rifkin
Adam Rifkin is the versatile writer/director known for writing family fare like Disney's 
Underdog
, Dreamwork's 
Mousehunt
, 
Small Soldiers
 and 
Zoom
. From his darker, grittier side Rifkin wrote and directed the cult hits
The Dark Backward
, 
Detroit Rock City
, 
Night at the Golden Eagle
,
The Chase
and his critically acclaimed and award winning surveillance drama
Look.
 Most recently Rifkin wrote and directed
Reality Show, 
a dark satire about the world of reality television that had its world premiere on the opening night of the 2013 SXSW Film Festival. Follow Adam on 
Twitter
Adam on 
Facebook